With almost 200 years experience of seaside holiday traditions Weston-super-Mare is proof that the traditional seaside holiday is alive and well, and here to stay. With all the right ingredients for a great holiday, whatever your age.From the beach with its miles of golden sand, sea, the Grand Pier; The Prom, colourful seafront stalls, boat trips around the bay, decks chairs and not forgetting those famous donkeys,
---

The Isle of Wedmore Golf Club is situated overlooking the Somerset Levels on the outskirts of the historic village of Wedmore in Somerset. The course features breathtaking panoramic views over the Mendip Hills, Cheddar Valley, Glastonbury Tor and the Somerset Levels from the gently undulating fairways. It has been carefully designed to maintain and enhance the existing environment, the many mature trees and
---

One of the most important historic landmarks in Britain, Stonehenge is a must see to all visitors in England. How was it built? Why was it built? Luckily Stonehenge is only a 45 min. drive from Tor Farm guest house so any guests can visit it with ease.
---

A major tourist attraction for over 200 years. With plenty to do above and below ground. Cheddar gorge is a place of outstanding natural beauty where you will find many rare species. The Cathedral-like Caves and Britain's biggest Gorge are million-year-old Ice Age river beds. Your ancestors have lived here for 40,000 years, and world-famous Cheddar Man is Britain's oldest complete skeleton.
---

Exmoor is one of England's best kept secrets. Tucked away in a relatively isolated corner of the West Country, it is often overlooked by holidaymaker's as they head down the south-west peninsula towards some of the region's more high-profile holiday destinations. But those who discover Exmoor tend to return again and again to enjoy the National Park's unique landscape, which although breathtakingly dramatic
---
Revamped, restored and totally remarkable, the new Wookey Hole experience has burst onto the holiday scene in an explosive mix of History, Fun and Mystery. Situated under 10 miles away from Tor Farm itself, its an ideal day trip for all the family.
---

Glastonbury is a different and rather lively small town. It has rich traditions, a cosmopolitan community and a taste of tomorrow. It sits on the ancient Isle of Avalon in the Somerset Levels, with a backdrop of soft, green, rolling hills. It has been a pilgrimage place for thousands of years. In the Middle Ages a great abbey was here.
---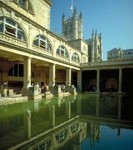 The Roman Baths are the best preserved Roman religious spa from the ancient world. The roman Bath spa is open through out the year except the 25th and 26th of December. Tor Farm guest house is only a short drive away from this magnificent attraction and Bath, the city to which it belongs.
---

Tor farm is located in an idyllic location in cheddar with beautiful county side walks in any direction. We can provide you with a selection of books, maps and routes upon your stay so you can plan your perfect walk.
---

Set within 900 acres of Capability Brown landscaped parkland, Longleat House is widely regarded as one of the best examples of high Elizabethan architecture in Britain and one of the most beautiful stately homes open to the public. As well as the house there is the safari park and surrounding attractions, such as pets corner, longleat's world famous hedge maze and many others.